Volunteers are one of the main reasons why SWESA is able to provide affordable programs to its members.  Almost half of SWESA members are willing to help out as volunteers.  This is an amazing show of enthusiasm.
SWESA's Board is indebted to the volunteers who make huge contributions to developing our Seniors Centre. Your help makes everything at SWESA possible and your enthusiasm is the welcoming face to our membership.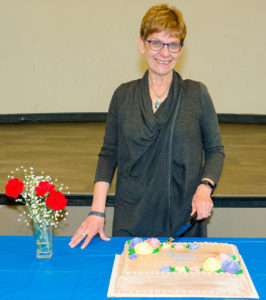 President Josie Richardson is ready to cut the Thank You cake at the 2019 Volunteer Appreciation Tea.
 "Alone we can do so little, together we can do so much."  Helen Keller
SWESA's Volunteer Coordinator and team have developed a full volunteer program where people have fun pursuing their interests and are well recognized for their contribution of time and talent.  Please contact our Program Coordinator at programs@staging.swedmontonseniors.ca for contact information.
If you would like to be a volunteer, click here for the SWESA participation form, which contains a section relating to volunteering on the back. Bring the form back with you next time you come to SWESA.
Our Volunteer Application Form shares expectations about:
confidentiality (being careful with membership information)
liability (being safe in the work you decide to do)
photographs (checking that you are okay to have photos taken)
emergency contacts
What can I do?
There are so many ways you can contribute your time and experience.  Look at the opportunities below for something that fits your interest and time.  Click on the highlighted titles for more information.
Committees and Programs
Front Desk Volunteer – help with photocopying, typing, answering the phone, receiving and filing forms and payments and other office activities
Volunteer Committee Member – join the team of people developing the volunteer program at SWESA
Marketing and Communication Committee Member – join the team helping to promote awareness of SWESA and get the word out on programs and events
Fundraising Committee Member – join the team of people developing different ways to raise revenue for SWESA programs
Assistant Photographer – Capture the spirit of SWESA membership by taking photos at events or working alongside the occasional use of a professional photographer
Special Events
If you are willing to help out occasionally – at monthly luncheons, social events and public displays, add your name to the SWESA Volunteer Roster.  When help is needed you will be called.  If you can help that day, great.  If not, no problem.
Kitchen Assistant – help prepare food and clean-up afterward.
Set Up/Clean Up – set up table & chairs, return tables & chairs to storage, sweep floor.
Servers – set up the food table, replenish food as needed.
Registration desk – manage sign-in & sell tickets.
Display hosts – answer questions, handout pamphlets at events
50/50 ticket sales – sell 50/50 tickets at special events
Projects
Seniors Column Writer – write a short column for seniors four to five times/year using all the SWESA program information and adding a paragraph of your own thoughts
Newsletter Editor and Writers – work with the Board to develop a newsletter for SWESA
Photo Archivist – take on this project to organize SWESA's electronic and printed photos to best reflect our history