GENERAL PROGRAM INFORMATION
This is updated on April 14. 2021.
Here are two senior Board Members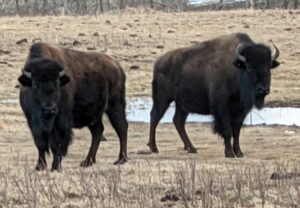 CLICK HERE to view the SWESA pamphlet for April 2021.
With the unpredictability of COVID-19 we have broken up the Program Guides into 5 Program Sessions, see the chart below for session dates and registration information:
(I'M NOT 100 % SURE ON THE WORDING OF THIS?)
Program Sessions For 2021
Session 
 Length (Weeks)
Session Dates
Registration Dates
1
6
February 16 – March 26

Closed February 15 

February 9 – 12
2
8
April 6 – May 28,

Closed April 2,5 & May 24

March 29 – April 1
3
8
June 8 – July 30

Closed July 1

June 1 – 4
4
8
August 10 – October 1

Closed Aug 2 & October 11

August 3 – 6
5
10
October 12 – December 17

Closed November 11

October 5 – 8
MEMBERSHIP
Our programs are designed for adults aged 55+. You normally do not need to be a SWESA member to participate, however with the COVID-19 Pandemic in full swing, SWESA will only be offering programming to SWESA Members or Reciprocal Members until the restrictions are fully lifted.
SWESA is part of a reciprocal agreement with other seniors centres including:
Central Lions Seniors Association                               Edmonton Seniors Centre
Jewish Senior Citizens' Centre                                    Mill Woods Seniors Activity Centre
Minerva Senior Studies Institute                                 North Edmonton Seniors Association
North West Edmonton Seniors Society                   Seniors Association of Greater Edmonton
South East Edmonton Seniors Association             Strathcona County Family and Community Services
Strathcona Place Senior Centre                                  Westend Seniors Activity Centre
Members of these centres will receive the same price discount as SWESA members for instructional programs (e.g. workshops, choir, fitness programs).  For all other programs, reciprocal members will pay non-member prices.  Reciprocal members will be required to show proof of a valid membership in one of the centres listed above in order to receive member prices.
PROGRAM REGISTRATION
Create your MyActiveCenter account today to register for one of our virtual or in person programs or information sessions. MyActiveCenter is easy, secure, and mobile. Benefits include:
An organized catalogue of all programs with dates, times, and locations.
Live availability – no more waiting to see if you got into a class!
Flexibility to register for all programs at your convenience.
Ability to join a waitlist for popular programs or those with limited space.
Once you've activated your account, you can join groups and enroll in your centre's activities online; they will appear on your My Activities page. It's easy to keep track of your courses, and you won't miss out!
Step by step Instructions are provided below:
Click on this link  www.myactivecenter.com to open MyActiveCenter.
Login to your MyActiveCentre account.
New User – At the very top, select the green button "New Users" to create and activate
a new account.
Fill in your Information:
Key Tag Number: Is found on the back of your key tag.
Home Phone Number: Is the number you used to register for your membership.
Email Address: Use your primary email address.
Password: Set your own password. Don't forget to remember it for next time!
Click continue.
Existing User – At the very top, select "Sign In" and log in with the same email and password you used last time.
If you have forgotten your password, select reset your password and follow instructions (For tablet or smartphone users you will need to go
to www.myactivecenter.com/#reset-password).
Click Continue.
Search for "SouthWest Edmonton Seniors" in the search bar.
Select "SouthWest Edmonton Seniors Association" from the search results.
Once you have successfully created an account or logged in, all available classes will be listed in alphabetical order. Select the class you wish to register for by clicking the name of the program.
Scroll down to the calendar. Select one of the days listed.
If it is a series, confirm you wish to enroll in all classes by hitting "continue" (this step will not appear if it is a one-time class).
Scroll above the calendar to a grey box to review and confirm the dates you have selected, hit the green "Register" button.
One final pop-up will appear to confirm your registration dates, click "Register".
Payment: SWESA staff will call you to process your payment by credit card over the phone once you have completed your registration or you may make an appointment to come by and pay with cash.
You may also register by calling 587-987-3200 Monday-Friday from 10 am-3 pm.
(BARRY: YOU CAN ATTACH THE LINK TO THE ABOVE IF YOU ARE TRYING TO CONSERVE SPACE. THIS INFO IS ALSO IN THE PROGRAM GUIDE) 
PROGRAM UPDATES 
Effective March 1, the province lifted some of the restrictions on group fitness classes, allowing for "low intensity" group fitness. Select classes to be offered "in person" are in Session 2 – Low Intensity "in person" classes are as follows:
Essentrics Age Reversing                   Essentrics for Seniors
Sit and Be Fit                                      Barre
Gentle Yoga                                        Yoga Stretch and Strengthen
Core and All                                        Body Weight
All "high intensity" classes will be offered "virtually" until the province lifts restrictions on high intensity group fitness.
Session 2 – High Intensity "virtual" classes are as follows:
Zumba Gold
Total Body Bootcamp
SWESA will be offering in-person classes at our Blue Quill Community Centre location, 11304 – 25 Ave, NW. With significantly reduced class sizes participants will be able to adhere to the physical-distancing requirements. Program and activity times have been adjusted to allow time for proper cleaning and sanitization between classes, and to allow extra time for participants to come and go with limited contact.
SWESA is offering Virtual Coffee and Chat, on Mondays and Thursdays beginning at 1:00 p.m.  There is no charge to attend. Zoom links to the Coffee and Chats can be found in the weekly bulletin or you can send an email to the Program Coordinator at programs@swesa.ca to request the link.
PROGRAM GUIDE
CLICK HERE to view the April and May 2021 Spring Program Guide, updated on March 17 2021.
CLICK HERE to view the February and March, 2021 Virtual Program Guide.
If you are not already familiar with Zoom, here are some resources to get you started:
·         CLICK HERE to view an introductory 5 minute YouTube video that shows you how to join a zoom meeting using information that you have received in an email message.
·         CLICK HERE to view a more advanced YouTube video, 30 minutes, that has more information including how to set up your own Zoom meeting using a free or paid Zoom account.
·         CLICK HERE to view Pat Wren's PDF handout for the Zoom Introduction class that he presented to SWESA members earlier this year.
·         CLICK HERE to view a PDF file that tells you how to connect your device (laptop, phone, etc.) to your TV for easier viewing.
PROGRAM LOCATIONS
·         Blue Quill Community Centre (BQCC), 11304 – 25 Ave NW, CLICK HERE for the map.
·         I took out Yellowbird Completely
·         Terwillegar Community Recreation Centre (TCRC), closed until further notice, 2051 Leger Rd NW, CLICK HERE for the map
·         eOne Fitness Studio, 3474 Allan Dr SW, closed until further notice, CLICK HERE or the map
OFFICE HOURS
Our office is located at the Blue Quill Community Centre.   Currently we are not open to the public however we will be making appointments between the hours of 10 am – 3 pm Monday through Friday where you may pick up printed copies of our registration form, program listings and the local Directory Of Senior Services.   You can also renew your membership and register and pay for programs.
PREVIOUS PROGRAM GUIDES
If you have suggestions for programs that you would like to see as part of SWESA, please email them to programs@swesa.ca