THE SWESA LIVE ACTIVE EXPO – Promoting Health & Wellness May 11, 2019
What is Live Active? It is a collaborative strategy for active living, active recreation and sport in Edmonton. This is currently being implemented throughout our City. The ultimate goal of Live Active is to keep our bodies moving, our minds healthy and our spirits alive.    The Live Active EXPO featured 5 themes as follows:
Motion is Lotion

Fuel Your Machine

Mend Your Mind

Partners in Health

Grow Your Future
Our Keynote Speaker, Dr. Billy Strean, spoke about  Joy as the Key to Live Active.  We had various musical groups and singers to entertain, lots of free food and drink at our SWESA Cafe, break out sessions (to learn Tai Chi, stretching and Square dancing) and over 40 vendors.
Click  here  to view the page from the Terwillegar Tribune that featured photos from this event and our sponsors.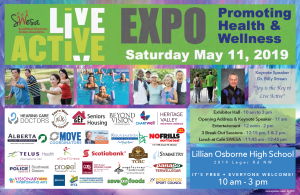 click here to view a larger PDF file of this poster.
Some photos from this event are shown below.  Click here to see all of our photos from this event in our photo gallery hosted by SmugMug.