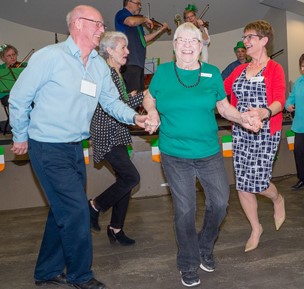 Charitable Registration # 81631 4389 RR0001

SWESA's Annual Appeal is held each fall as an opportunity for members and the general public to support SWESA. Fundraising accounts for one third of SWESA's operating budget.

Donations are also welcome anytime during the year. All donations, big and small are appreciated. A tax deductible receipt is issued for any donation of $20.00 or more.
Our 2021 Target is $40,000
Proceeds from this year's campaign will be used to expand our range of programming, keep fees affordable and provide both in-person and remote program participation options.
"Friends come into your life for a reason. SWESA came into my life as a miracle. As we age we lose our friends for many reasons and life can become lonely. I joined SWESA and life returned. I have met so many lovely new friends and reunited with friends from years ago. After the recent loss of my husband, I received such kindness and compassion from SWESA friends."

A Kulak, SWESA member
Thanks to early gifts from our Friends of SWESA we have been able to match the very generous donation of $10,000 by an anonymous community philanthropist!
This is a test of the new plugin for reusable blocks.
Help us raise the red the rest of the way!
CLICK HERE to donate online through our safe and secure connection to CanadaHelps.org
or
CLICK HERE to display the SWESA donation form. Fill it out and either mail it to us or drop your donation off in person at the Blue Quill Community Centre. CLICK HERE for our mailing and Blue Quill addresses.
To help us spread the word about the Appeal, consider having your photo taken with our campaign poster at the Blue Quill Community Centre.
Please join us in thanking all who are supporting our 2021 Annual Appeal – by visiting our 2021 Annual Donor Appreciation Wall. Every contribution helps develop programs that have a positive impact in the lives of people ages 55+ in southwest Edmonton.
All donations, big and small, help to support and grow our organization. A tax deductible receipt will be issued for any donation of $20.00 or more. Online donations to SWESA can be made through CanadaHelps.org.